COVID19 has changed our world in more ways than one, including the wedding industry.
Along with the added face masks and extra measures to keep everyone healthy and safe, comes a shift of big, traditional weddings to more intimate elopements and micro weddings.
You're probably thinking, What is an elopement? What is a micro-wedding? Is it right for me?
"The act of running away with somebody in order to marry them secretly"
An elopement is choosing connection over expectation by marrying in an intimate, meaningful and highly-personal way. Focusing only on your commitment – an elopement creates a space for you to be truly open and present with each other on your wedding day.
The beauty of an elopement is that there are endless options as to where to hold your ceremony. As a result, elopements can happen in nature, in public parks or buildings, at someone's residence, or even a family member's property. With an elopement, the destination is essentially wherever you'd like it to be, without worrying about a hefty deposit on a wedding venue.
The beauty of an elopement is blending both traditional and non-traditional elements, making your day exactly what you've envisioned.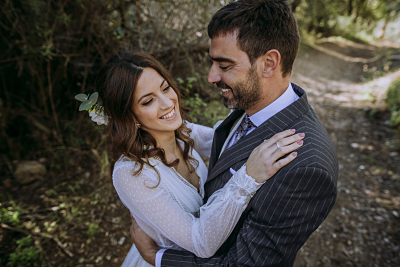 Here are some things your day could incorporate…
A morning stroll or swim together. Have a couples' massage
Choosing to only honour traditions which align with you i.e. handfasting, not seeing each other before the ceremony, wearing a white dress, carrying a bouquet etc.
Choosing to have a 'first look' somewhere special
Personal vows at sunset or sunrise
Have a private dinner at your hotel suite or Villa; going to a Michelin star restaurant for dinner
Having a first dance under your favourite tree
Eating wedding cake for breakfast
The trend for having a micro wedding is growing, and if you're after a small wedding with a focus on guest experience and your true love story, it could be the right choice for you.
A micro wedding is a wedding with less than 25 guests. Being smaller in size, it's usually cheaper, more relaxed and shorter in length than a traditional wedding day. While a microwedding can save you money, many couples are turning it into a macro experience. It strips the planning process back to the important things: the people you absolutely want by your side and the experience you want to create for yourselves and your guests.
The advantage of a micro wedding is that it doesn't have to include all the components of a 'traditional' wedding day, like a cake cutting, bouquet toss or first dance. However, for many couples, traditions like speeches and the first dance are still essential elements and they'll choose to have them. It all depends whether the wedding traditions are important to the couple or not. If they don't resonate with your values or vision, there's no pressure to include them!
A smaller ceremony and reception means that you can be even more flexible with where you do it. You can pick a beach, a park, or somewhere isolated, as you don't need to worry about capacity.
We Love These Micro Wedding Ideas:
Make your destination micro wedding last longer than a day (for example you can rent a house and have all your favorite people stay with you for a weekend to make the love and fun last longer).
Plan a fun adventure or activities with your guests like a boat ride, helicopter ride, hiking, scuba diving, —of course, that will depend on your budget, number of guests, and what you enjoy doing.
Have people write you letters of what they wish for you in the future in a sealed box for you to read on one of your anniversaries.
Make a spiritual ritual during your ceremony. Wite your own vows
If a Destination Elopement or Micro wedding in Southern Spain is your ideal way to get married then get in touch to arrange a free consultation!