An increasing number of couples are looking at ways of having an eco destination wedding or adopting a few eco-friendly ideas to make their wedding day that bit more sustainable.
Planning a green wedding in Spain doesn't necessarily have to be harder than planning a less environmentally friendly event. At My Natural Wedding, we can help you to achieve a more eco-friendly celebration, choosing local vendors and suppliers.
These days, sustainable wedding ideas are plentiful, with more eco-friendly wedding decorations on the market and greener options.
If you're eco-conscious and want to reduce your event's effect on the environment, there are plenty of small changes you can make that will have a major impact.
Here are 6 tips!
1. Pick an Eco-Friendly Venue. Built-In Décor
One of the first steps you can take when organizing your events is choosing a venue that is in line with values of sustainability. If you find the right venue, making your event sustainable will become a much easier task.
Today, more and more venues are beginning to understand the importance of using renewable energy for their buildings, so if you want to emphasize that your event is sustainable, finding a site that uses solar or even wind energy can be a great option.
Andalucia, in the South of Spain, is the perfect place for renewable energy, with its miles of coastline where wind turbines can harness the sea breezes, and its endless hours of sunshine, which can be absorbed by solar panels and turned into energy. The hotel industry is one where many companies are working to incorporate renewable energy. Every day more hotels in southern Spain install renewable energy sources based on solar panels, light sensors or biomass tanks.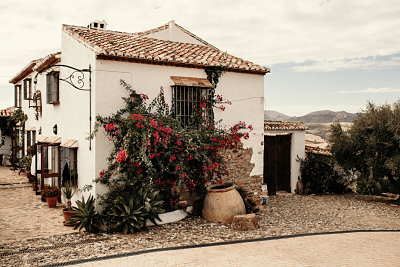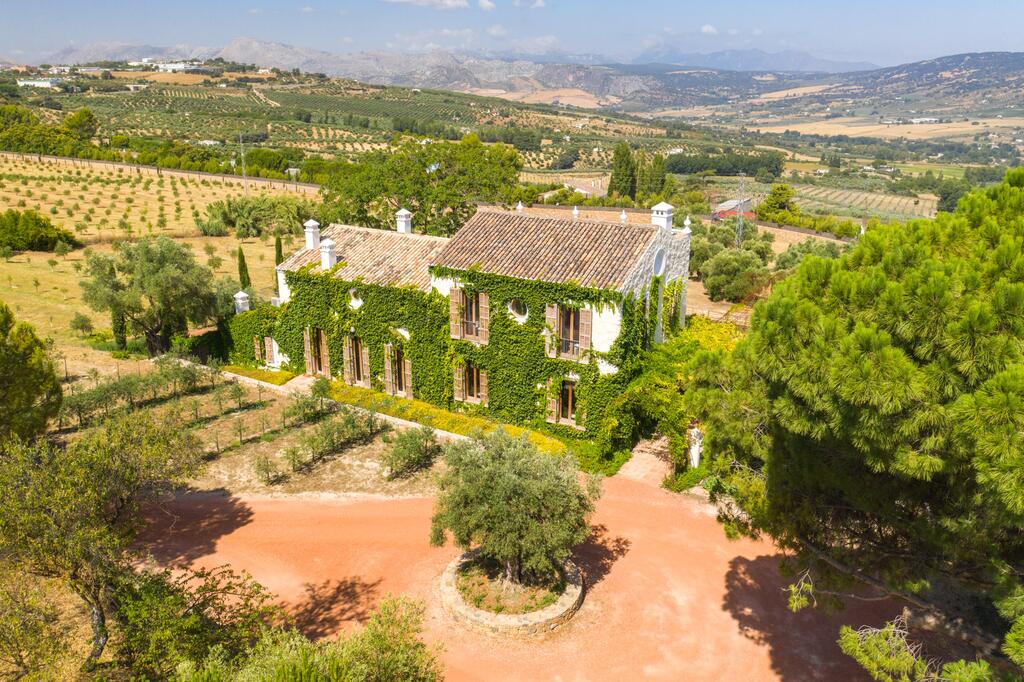 You can also opt for an outdoor space, this is a great way to be one with nature on your wedding day. You'll also save on your energy usage by cutting down on the amount of lighting you'll need. All the natural light will result in beautiful photographs! Malaga is a perfect location for an outdoor wedding. On average, there are 320 days of sunshine per year in Malaga.
While booking your ceremony and reception sites, look for spaces and venues that offer details that fit your wedding style, such as breathtaking sea or mountain views, rustic vineyards, charming palaces and Spanish Cortijos or stunning gardens. Using the venue "Built-in" decor will save cash for you and resources for the earth.
2. Opt for Sustainable Meals / Reduce food waste
Look for caterers who focus on local, sustainable, and seasonal cuisine. The more local, the smaller the carbon-footprint from long-distance shipping.
The same goes for wine and drinks. Look for natural, organic, and biodynamic bottlings to support environmentally conscious producers who focus on being earth-friendly in the vineyard and the winery.
Opt for plated dinners to avoid excess food, and if you do go for a buffet, speak to your caterer about saving leftovers.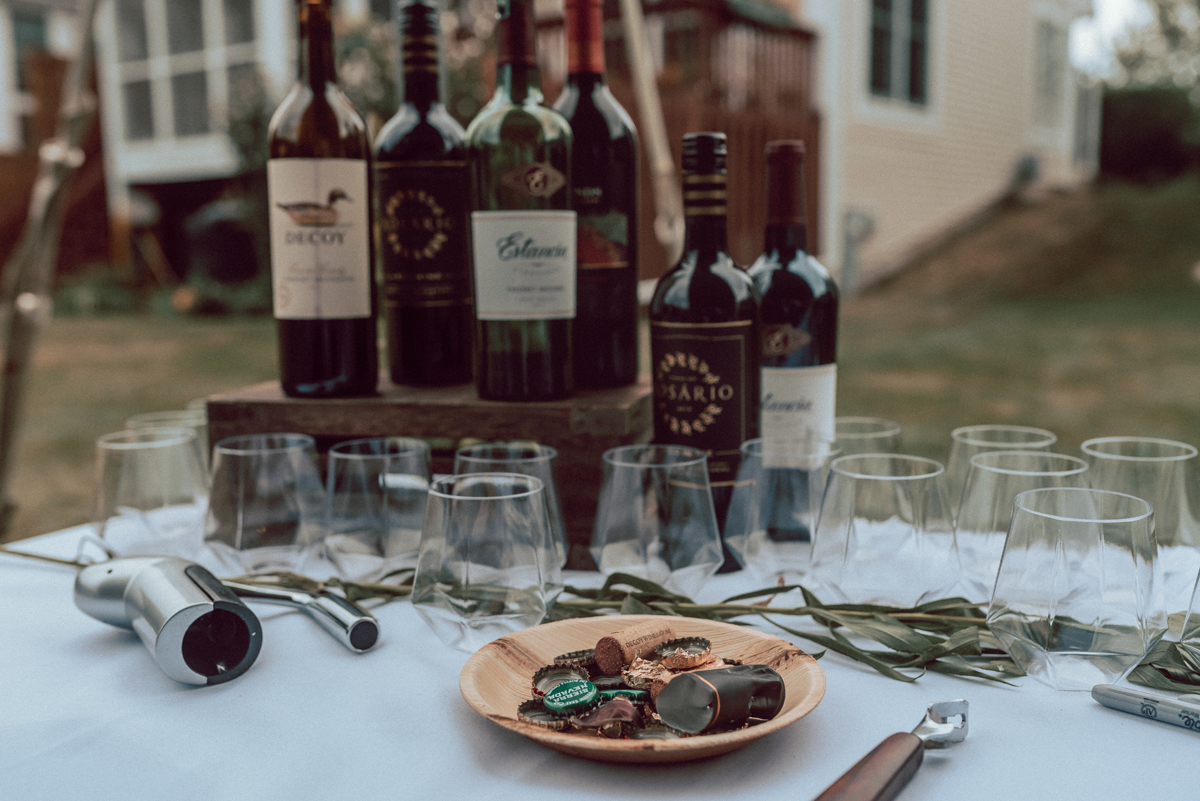 3. Eco-Conscious Ring & Wedding Dress
There are a few different ways to approach ethical bridal fashion, including buying a vintage or second-hand dress, and recycling your dress after you wear it. For us, the most impactful option is to support designers who work hard to ensure fair conditions for their garment workers and source fabrics from suppliers who do the same.
Jewellery is another opportunity to make ethical choices – choose conflict-free stones and Fairmined metals, shop vintage or look for brands with Fairtrade or sustainable manufacturing. You can even melt down the gold and refine it, or set an existing diamond into a new band.
4. Choose Eco-Friendly Invitations
Wedding stationery means lots and lots of paper. There's several ways to reduce the environmental impact of sending all those paper invites.
Paperless options for wedding stationery are increasingly popular. Invitations and Save the Dates can be sent digitally by email.
If you opt for paper invites, the ideal is for the invite to be made from recycled cards in the first place. It's easier than ever to find invitations that are printed on recycled paper or use alternative materials, like upcycled fabrics, leather, and wood..
For the most earth-friendly stationery, print invitations, programs, and menus on seed paper. Seed paper is a biodegradable material that sprouts into flowers when planted in a pot of soil.
5. Be Conscious of Floral Arrangements
To accompany your carefully chosen menu, flowers should be as locally sourced as possible and in season. Make your cut flowers go further by putting single stems into recycled glass bottles.
Why not opt for live plants instead of cut flowers to give your wedding table an unconventional twist? Potted plants are more affordable than elaborate cut flowers and can be taken home after the wedding.
Many florists work with small local farms or grow flowers themselves, reducing the need to transport blooms long distances.
For that all important 'just married' moment, choose biodegradable dried petal confetti or olive leaves over paper or synthetic types. Not only will it create the sense of blossom falling from the trees, you won't be littering the venue! Make them available to your guests in Kraft-paper bags that can be recycled or large vessels where guests can grab a handful on the go.
Not just for the eco-conscious couple, a greener mindset can actually help to simplify your wedding plans, be potentially more cost effective and enhance the feel good factor on the day. Hiring a local Wedding planner for your wedding abroad will be very helpful.
When it comes to furniture, lighting, accessories and props, hiring reusable items instead of buying new wherever possible is the greenest way to go – and the more locally you can source it the better.
If those crisp white tablecloths are a little too formal for your taste, consider linens made from natural fibres for your tables. Organic linen and hemp napkins and runners are also available for hire.
Ban disposables including plastic cups wherever possible and hire reusable crockery and cutlery instead. If disposables are absolutely necessary, choose bamboo or biodegradable alternatives. If you're going for straws in mixed drinks, rent or buy reusable stainless steel ones. Or, for a less expensive option, pick paper straws over plastic ones; they decompose more easily and won't harm sea life.
If a Destination Wedding in Southern Spain is your ideal way to get married, get in touch to arrange a free consultation!