Every dream begins with an impulse, a whisper, a leap into the void.
It walks insecure, defiant and with an acrobat's step.
With the force of a delirium, a wakefulness and a thousand things to tell.
We have the right to dream.
Will you marry me?
There are many perks to having a microwedding, mainly creating a more intimate occasion, without leaving friends or family out of the fun. On one hand a microwedding can still feature time-honoured wedding traditions but on a smaller and more intimate scale. On the other hand, brides and grooms can twist tradition and get creative in ways that might be more difficult with larger, more traditional affairs.
Inspiration started very simply. Who has not dreamed of having an intimate, romantic and secret wedding?
For some couples, intimacy is important, special and romantic. It is their opportunity to create a magical experience for their guests; focusing and working with the small details from floral arrangements to food and drinks. The inspiration and ideas are endless!
When designing our client's weddings we always tailor and enhance the venue chosen, which can be seen here. The venue is an 18th century winepress in Malaga's countryside, set in a secluded valley. This beautiful winepress really does have everything and it is the most perfect spot for an outdoor and intimate ceremony. It's an authentic rustic and raw space that is pure and refreshing.
Complementing the wild and raw environment was key to the styling. We chose a colour palette with a modern and welcoming presence. The combination of rich caramel shades and gold hues against fresh, organic creams and greens seen within the landscape, combined with a touch of passionate and bohemian reds give the venue a warm and elegant presence.
The modern, elegant and bohemian outfits of the couple, alongside the jewellery, complemented the fresh modest makeup and headpiece of the bride.
The headpiece and earrings were carefully designed with exquisite detail, focusing on texture and the theme of the wedding to complement the bride, venue and colours.
The wedding invitation, printed on natural and organic paper, incorporated a QR code which pinpointed the location of the wedding on maps, giving modernity to the event.
Stationery combined minimalist design with traditional and modern techniques to create considered pieces that complemented the table.
The fabulous thing about intimate wedding ceremonies is that they come with no restrictions! Romantic, Bohemian and Unique!
The outdoor ceremony, with just 10 guests, took place at the same location during sunset. Sunset ceremonies create an instantly romantic mood for your destination wedding. A little creative lighting can go a long way against the slowly dimming hues.
The amazing view of the mountains is the breathtaking shooting backdrop, and the asymmetric floral altar, made with fresh and dry flowers and pampas grass, produces a magical translucent atmosphere. A rich palette of burgundy, oranges and beige influenced every component of the pampas grass.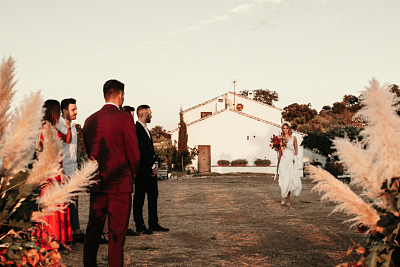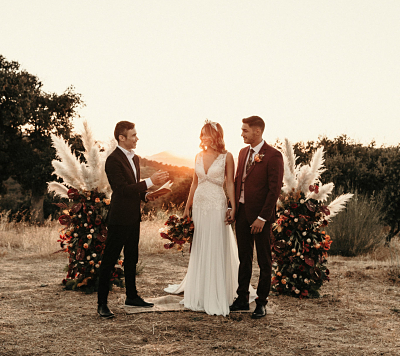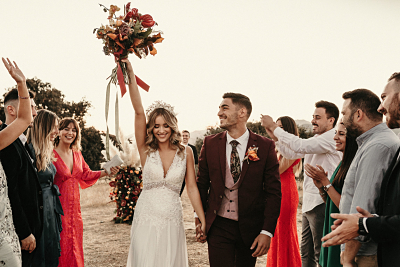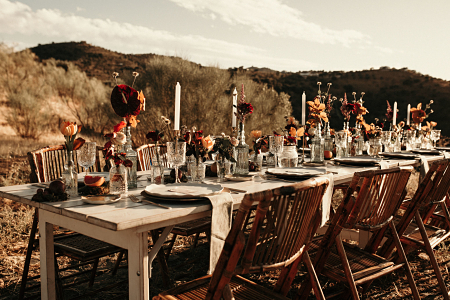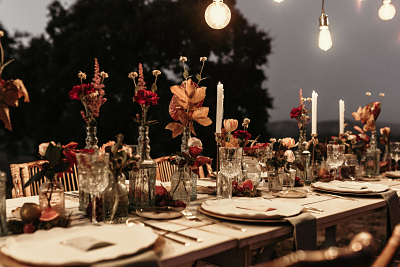 A perfect centerpiece was made adding textures and details from the handmade stoneware plates and wood placemats, discrete vases of dried and fresh flowers such as tulips, carnations, oak leaves, anthurium, english roses, clematis and astilbe which were combined with grapes, grapefruit and natural moss. Elegant gold cutlery and beautiful chandeliers contrasted whilst complemented the rustic wood furniture.
The cake design was simple and elegant, focused on the same color palette as the rest of the decor. It had a white topping made from buttercream , which gave a rustic look and texture to the cake. The sponge was made from chai tea filled with caramel Dulce de Leche, a delicious mix that added a modern touch. The splash of color was provided by different decorative elements such as seasonal fruits (figs and grapes) and nuts, providing a mediterranean style and flavour.
Lights and candles played an essential and magical role in this shoot, as with most weddings. Great lighting makes your wedding venue look truly unforgettable, and one of the top wedding trends of 2020 is mood lighting. 
We used two different light setups:
For the reception table a variety of overhead lights were used which gave the illusion of floating stars. 
The fairy lights hanging from the Spanish old Pine tree provided a magical scene, creating a romantic chill-out area for guests, and an intimate and "instagramable" area for photographs.
Weddings are one of the most important and memorable celebrations in our lives. Good music and lots of dancing is essential. It's important to ensure you invest in your party as it's something you will never forget. 
Distressed red chester sofa, light up neon signs and a cocktail bar were used in combination to create a festival atmosphere – the perfect late night feast!
WP, Concept & Design - My Natural Wedding
Photographer - Bendito Juan Photography
Video - A2C Producciones
Florals - Anais Floristas
Lightening & Furniture - MásquePalets
Hair & Make up - Carmen Velasco
Jewerelly - Logana
Dress - Centro Novia Malaga
Suit - Felix Ramiro Malaga
Pottery Plates - Perikita Love
Cake - Alejandra Valenti Pasteleria
Invitation & Stationery - Patiry Love
Couple - Cristian & Rosana
Location - Lagar Los Pilones
If a Destination Micro wedding in Southern Spain is your ideal way to get married, get in touch to arrange a free consultation!